ECompany is a full-service agency for digital marketing. We have been rendering a wide range of digital marketing services since 2009 to our clients belonging to different industries. We have been working in the direction of assisting our clients in building their brand names with innovative digital solutions. We assist our valuable clients in finding their brand's voice and enhancing its recognition across the globe.
Our prime aspiration is to become the most trusted and qualified digital marketing agency in the market, and it is a task that we are well on the path of attaining. Our concentration is on delivering business-boosting results for our ambitious clients.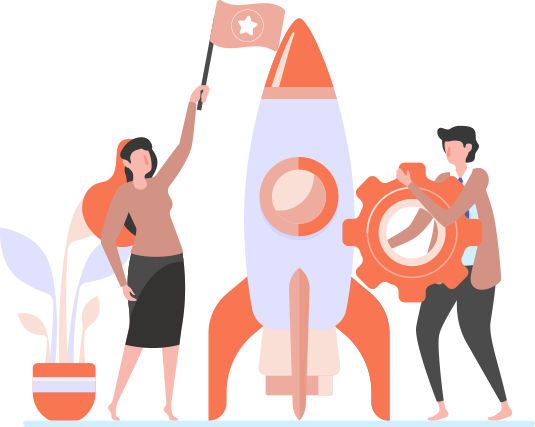 At the internal level, we intend to attract, retain, and develop better talent in a cooperative environment that encourages our professionals to be innovative and generate more significant outcomes for our clients.
When it comes to transparency and accountability in our profession, we believe that there is higher confusion in the digital marketing industry. Therefore, we communicate in a user-friendly manner with our clients in order to generate transparency and clarity, which in turn help us in driving remarkable ROI and value for our clients.
At ECompany, our digital marketing services comprise management and consulting option for a wide range of online marketing strategies such as pay per click ads (PPC), search engine optimization (SEO), conversion rate optimization, and more. We also offer expert services of web designing and development for B2B as well as eCommerce companies. Don't just work with any digital marketing agency; work with the one you can trust.
At ECompany, we keep fairness, work ethics, and commitment above all. Our core vision is to deliver significant and marvelous results to the clients who shake hand s with us. Our vision comprises turning the novice brands grow into popular household names and assisting the well-established brands to enhance their brand recognition across the globe. We believe in thinking beyond the brief and do upbeat work that pushes the brand forward and deeper into minds of their customers. We follow the approach of providing big ideas to our clients at affordable prices and give wings to their brands. We see our future and progress in the growth of our client's brands.
At ECompany, we have a team of digital professionals, and each of our members is committed to staying at the forefront of the digital world and delivering market-leading outcomes for our clients. Our team comprises of young talented minds with heads full of creativity and innovation. We are here to provide solutions to our clients that stand out in the muddle of the digital marketing world. Beating our own developed benchmarks is the thing that our team members do every day to come up with outstanding solutions. Our team includes members oozing with fresh and innovative ideas. We have a team of professionals from different part of the nation, but they all carry the same level of passion and share an unwavering commitment for their work.